Bank Midwest & Smokehouse Barbecue
The restaurant industry is notoriously competitive everywhere, but in Kansas City, barbecue is particularly significant. It alludes to the city's history and culture, and every Kansas Citian has a favorite barbecue spot they'll defend. Simply put, barbecue is a serious matter in Kansas City.
Physically, it's obvious that Smokehouse Barbecue isn't the typical Kansas City barbecue joint, with each of its three locations' unique décor– tiffany glass, oil paintings, and domed ceilings. With a degree in civil engineering, owner Darioush Ghasemi designed the buildings himself.
"I changed the style of barbecue in Kansas City," Darioush said. "Anytime anyone would talk about barbecue, they told me it should be a 'hole-in-the-wall' or a really old building, dirty, this or that. I changed that. I said, 'No, we should treat barbecue well because it's American food. It's Kansas City'. So we built the most beautiful building."
Darioush aimed to evoke a sense of pride and respect for the food they were serving through the design of his restaurants. He wanted to create the full sensory dining experience, rather than just a place to eat. But it's not just what you see on the surface that contributes to Smokehouse's appeal. The owner, Darioush and his son Joshua Ghasemi, Vice President, are meticulous about maintaining quality in their kitchens and work hands-on to ensure that the food is up to their standards. While the dining area may be upscale, the kitchen is Eighteenth Century. They smoke barbecue the old-fashioned way with burning wood, and many of the cooks have been working for Smokehouse for about 20 years.
The family atmosphere and great food make up a large part of the dining experience, but the service that customers expect from Smokehouse takes the experience to the next level.
"The way I look at it, the customer is my boss," Darioush said. "When a customer walks in, they will see hostesses inviting them inside with a smile. We treat them like a king or queen, and we serve them great food."
Client service is actually what provided the foundation for Smokehouse's relationship with Bank Midwest. Bankers Greg and Matt meet with Smokehouse regularly, usually over plates of barbecue, to discuss how they can help Smokehouse reach their business goals.
"Our business is all about customer service, and we can identify good customer service when we see it," Joshua said. "Bank Midwest does that. They make us feel like family. I know that sounds cliché, but it's the truth. People think of banks as corporate, but we don't get that feel from Bank Midwest. They make us feel at home and like we are on the same team."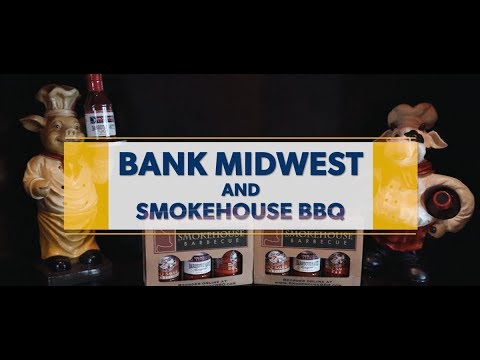 Throughout their relationship, Bank Midwest has helped Smokehouse purchase vehicles to expand their catering business, do renovations on their buildings, and consolidate their loans in order to lower their overall loan payments. The bank also analyzes Smokehouse's monthly statements to help with business growth.
"We meet with them on a regular basis and they have the same idea preached towards us every time. It's 'Whatever you guys need, we're here.'" Joshua said. "Earlier this year, we purchased two new vehicles for our catering business. Matt and Greg said, 'Sure whatever you guys need.' We're looking to do renovations on our Independence location. 'Whatever you guys need.' And that's the response we're looking for because they want to see us grow, as well, and it's so important to have someone, especially your bank, have the same ideas you do."
Joshua said the loyalty and responsiveness Smokehouse has received from the bankers is what makes their working relationship so successful.
"You really want to work with good people, people that you can trust, and people that understand what you need and what you're looking for," said Matt. "People that understand their business so they can help you do the best job you can for them. And that's what Josh and Darioush are. They're very responsive, they're very communicative, and they understand the business and what they need to get where they want to go."
While the industries are vastly different, Smokehouse and Bank Midwest have one thing in common. They recognize the importance of client service and the power it has to create a more meaningful experience, barbecue and banking alike.