Bank Midwest & Hale's Heating & Cooling
Husband and wife team, Bill and Michele Beck, are the owners of Hale's Heating and Cooling. And they're proud to have recently found a new home for their business in Liberty, MO. Over the past few years, Hale's has experienced rapid growth. Simply put, the business has outgrown its home, and the team is excited to move into a spot that will fit the business's needs today and allow for even more growth tomorrow.
Bill and Michele weren't planning on owning Hale's Heating and Cooling. But then they met Bill Hale, who had been in the business for almost 40 years.
"We just felt like it was a good business because he was a good person," explained Michele.
With her husband's experience in commercial heating and cooling, and Michele's background in marketing and advertising, in 2013, the two combined their skillset to take ownership of Hale's and grow the business together.
"In a lot of ways, Michele is the heart and soul of the business," said Bill. "There is no chance I would run this business without the expertise and professionalism that she brings. It's unmatched, and I just happen to be married to her. And I'm very thankful for that."
There are many options for heating and cooling, but what sets Hale's apart, especially on the commercial side, is their high quality standards, attention to detail, and friendly team.
"My husband had a background in the union, and since then, our commercial manager Richie has come on board with us. They're really bringing a level of expertise and quality in their workmanship that is well and above most of our competition, especially with companies our size," Michele said. "We set a standard of excellence that will always set us apart."
It is this standard of excellence that accounted for some growing pains Hale's experienced. Their high quality work didn't go unnoticed by larger corporations, and as Hale's grew, Bill, Michele, and the rest of the team knew they wouldn't sacrifice the quality of their work even for larger projects. They also knew there would be financial work on the back-end that they would need to focus on. That's where Bank Midwest came into play.
Business Banking Officer Alisha Lay had met Bill and Michele at various chamber and networking events, and today, Alisha manages their entire banking relationship at Bank Midwest. As a client, Hale's Heating and Cooling had already received lines of credit through the bank, which allowed them to serve bigger commercial clients like Quick Trip, and vehicle loans as the business expanded. Michele and Bill credit the confidence Bank Midwest instilled in them as being a major part in helping them achieve their business goals. The bankers also allow them to focus on their business operations, while they work on solving back-end financial needs. This even includes treasury management, allowing Hale's to easily pay their vendors and employees.
"They do the work so that we can focus on our business," said Michele.
This relationship allows Hale's Heating and Cooling to continue to maintain the quality they want to achieve.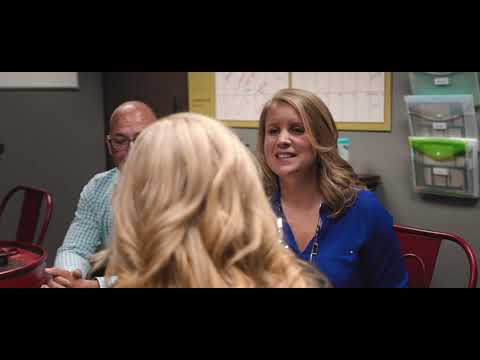 One of Hale's biggest challenges was that their current building didn't allow for the growth that the business was experiencing. It took about a year to find the right spot that would serve their needs, and once they found it, they needed to close on it, fast. The best option was a Small Business Administration (SBA) loan, which is traditionally a slow process.
Because Alisha was familiar with the business and their needs, Hale's Heating and Cooling was able to close the SBA loan in record time, with help from Bank Midwest Small Business Administration expert, Danny Lobina.
"We felt like it should have been more difficult," said Michele. "And that was truly the expertise of Bank Midwest. Their SBA team even surprised our realtor, who does commercial real estate all the time, with the way they closed the loan. Sometimes I can't believe it. We bought a building! It was just an incredible experience." Alisha is excited to see Hale's move into their new space, enough to even personally help with the demolition!

"They say trust can be lost in buckets, but gained drops at a time," said Alisha. "When I looked at Bill and Michele's business plan and thought, 'I could partner with them,' I was just testing the waters. We had to make sure it worked on both sides. Their business plan was phenomenal, so I wanted to be a partner of that. We were able to step in one step at a time, and today, we're able to help them on all aspects of their business."
Hale's Heating and Cooling not only stands out in their quality service, but their responsiveness in their banking relationship and hard work in their business plan is outstanding, according to Danny and Alisha. Both Danny and Alisha credit Bill and Michele with the dedication that allowed for their growth and success.
Bank Midwest's relationship-focused approach allowed for a partnership with Hale's Heating and Cooling that helped them achieve their business goals through a combined effort. "Bank Midwest wasn't our first bank, but they are the first bank where we realized what a banking relationship should be," said Michele. "And the level of service and care for our business is now what we expect."